About Marayke's injury and the car she needs
Why does Marayke need this car?
Unfortunately after 20 years as an elite athlete and wheelchair user, Marayke has been
diagnosed with an overuse injury to her arms and now she not only lives in extreme pain but requires a motorised wheelchair which she cannot transport in her current vehicle.
Marayke now needs a van which she can enter through a ramp and drive using a joystick steering system while sitting in her wheelchair. These modifications are unaffordable for Marayke.
This means Marayke is predominately stuck at home and unable to engage fully in employment or volunteer work as she did before.
"Imagine if every time you went to work you became bedridden in agony for up to a month because you had to use inappropriate transport- this is a reality for Marayke now after she travels to every motivational speaking job as it flares up the injury which forced her to retire from swimming."
Marayke has done so much to support the Sunshine Coast community over the years now she needs YOUR help to continue working and contributing to the community as a positive role model.
There are three ways you can help:
1 Make a tax-deductible donation of over two dollars by clicking on the button
You'll be taken to a secure online donations page created for Marayke by Sunshine Butterflies where you can leave a donation credit card, and will be emailed a receipt. All donations over two dollars are tax deductible in Australia.
2:  Join our crowd funding campaign and purchase one of the fantastic products and such as marayke's motivational speaking  programs,  goal setting and disability awareness workshops,  inspirational posters  and corporate sponsorship packages for the vehicle. ( please note purchasing a perk through crowd fundraising makes you in eligible to receive a tax deductible receipt)
3:  Join team Marayke: share this information with everyone  you know and together we can be a force for good  and change Marayke ever.  if everyone tells one person word should spread.  If 100 people donate $100 Marayke will have a car,  that we need to spread the word much further for that to say that if you can't afford to donate please share our page  via email and social media.
4 Keep an eye out for "make Marayke out mobile" fundraising activities and events throughout 2014 and 2015 by liking Marayke's Facebook page and subscribing to Marayke's newsletter for motivation, inspiration plus updates on Make Marayke Mobile!
ABOUT MARAYKE'S OVERUSE INJURY
Unfortunately Marayke was diagnosed with thoracic outlet syndrome in 2011, not only forcing her to retire from the sport that she loves but drastically decreasing her level of independence. The injury means The arteries and nerves controlling her arms become compressed between her first rib and collar bone whenever she elevates her arms leading to: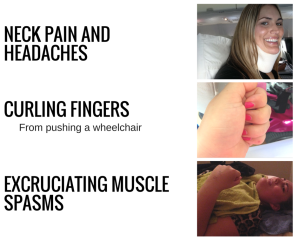 While she has been physically weakened by this injury Marayke remains bright motivated and keen to participate in both employment as well as voluntary activities as she has in the past, and her capacity to do so is hampered by limited access to transport.
Prior to her injury Marayke worked as an employment consult for people with disabilities at a major disability employment service provider, in addition to running Sporting Dream, freelance writing, motivational speaking work and other volunteer work in the community. She seeks to return to this level of community engagement and contribution through access to a suitable vehicle.
About The Vehicle
Marayke requires a vehicle which she can enter and drive while remaining in her wheelchair. This kind of vehicle modification has an automatic ramp at the rear enabling her to drive her wheelchair into the car up to the driver's position. The wheelchair and vehicle will be fitted with a docking station which locks the wheelchair into place as if it were the drivers seat. A specialised headrest then swings out at the press of a button. By pressing another button the automatically controlled boot and ramp close themselves. This is necessary because a powered wheelchair weighs almost 100 kg and is too tall and heavy to get into a normal vehicle. Modifying a vehicle to carry a passenger in a powered wheelchair requires lowering the floor to enable enough head clearance for safety to allow it to be registered in Queensland.
After discussion with occupational therapists and vehicle modification companies Marayke has selected the Volkswagen T5 transport as the most likely appropriate vehicle as this vehicle configurations allows seats to be moved around within the vehicle so she could also be a front row passenger in the event someone else is driving (for example if the vehicle needs to be taken to repairs, to share driving over long distances for safety etc).
The steering modifications
Previously as a paraplegic Marayke drove her vehicle using hand controls, and a normal steering wheel. She dismantled her manual wheelchair and pulled it into the car beside her.
Now due to the thoracic outlet syndrome elevating her arms and holding them in front of her to turn the steering wheel aggravates her condition.
However there is a solution which will enable Marayke to drive again. Adaptive steering technology is available enabling a vehicle to be driven via a joystick.
How do we know this is the right equipment?
Marayke has visited the leading vehicle modification experts and factories in both Sydney and Melbourne to look at vehicle modifications and through this process and discussions with the staff and occupational therapists narrowed down which modifications suit her needs best.
Costs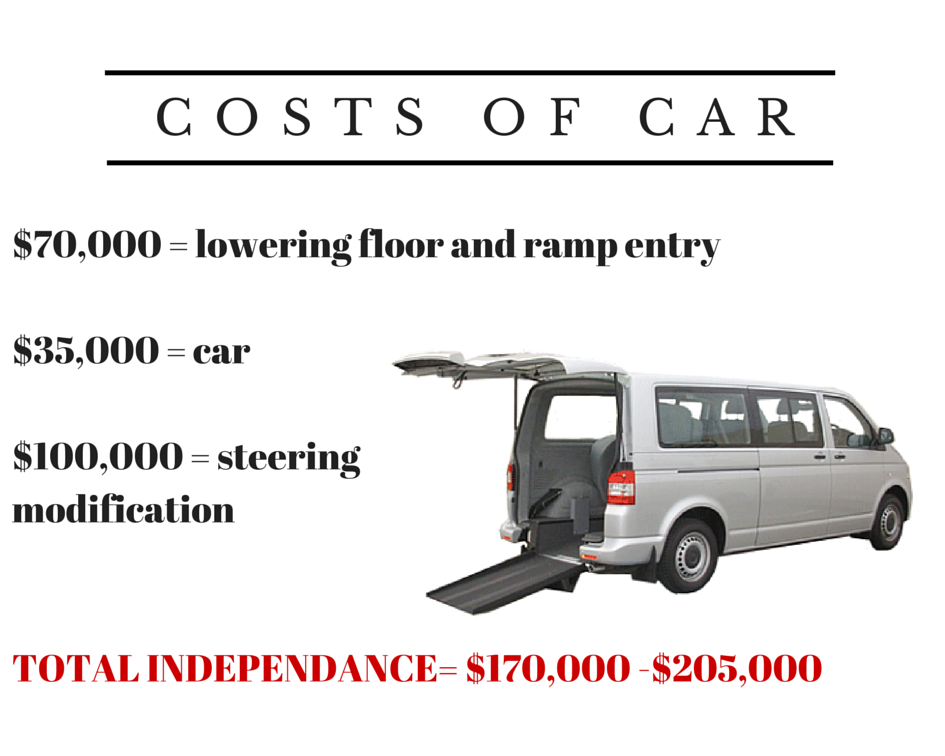 WHY THIS CAR WILL BE LIFE CHANGING
Imagine got going from being so so strong you can lift your body weight with one hand to being so weak you drop a piece of toast, and not only that but being forced to stay at home because you cannot afford a suitable mode of transportation.
Yet Marayke remains motivated to continue working and contributing to the community. She has overcome so many obstacles through the thoracic outlet syndrome including an inability to type or use the mouse by now using voice dictation to control her computer so that she continue helping others through Sporting Dreams and in her role as a motivational speaker sharing her journey to becoming a Paralympian in the hope it inspires others to chase their dreams.
Benefits of the modified vehicle
Benefits for Marayke
Remaining in the wheelchair rather than transferring in and out of other vehicles reduces fatigue and the chance of further overuse injuries to arms due to transferring from the wheelchair to a vehicle seat.
Marayke will be able to financially support herself better once she has access to transport for employment
Marayke will no longer experience excruciating pain, incapacitation and nausea caused by inappropriate transportation
Marayke will regain independence, being able to attend appointments etc without relying upon and placing additional strain on her family.
She will be able to continue her much loved volunteer work within the community and continue to contribute to society.
Being financially self-sufficient through running her motivational speaking business, travel writing business or gaining other paid employment.
Prior to being diagnosed with thoracic outlet syndrome, she worked for two years as an employment consultant assisting people with disabilities in addition to running a motivational speaking business and running the Sporting Dreams grant Programme as a volunteer. Now that Marayke is forced to use public transport to attend events, it can take up to a month to physically recover from the vibrations pain and nausea associated with using maxi taxis and trains meaning she can only travel to work once a month at the most. There is little incentive to attempt working knowing that for the rest of the month she will be in excruciating pain and/or bedridden. In this stage it is also very difficult to secure future employment when she is incapacitated. If Marayke does not travel in vehicles /public transport her symptoms drastically decrease enabling her to live an independent life of a much higher quality.
Benefits to the community
With access to proper transport Marayke will return to being a valued role model within the community and a contributor to the many community projects she has been involved in since her teenage years:
Sporting Dreams: Marayke founded and runs the not-for-profit grant program Sporting Dreams in 2008, which empowers athletes with disabilities by providing funding grants towards equipment costs such as racing wheelchairs, travel training and competition expenses. This program has raised $49,000 and helped 118 athletes throughout Queensland. Marayke also provides mentoring to athletes who receive grants, and conducts an annual awards ceremony celebrating the achievements of athletes.
In order to continue running this program she requires transport. Marayke largely runs this program herself, coordinating a small ad hoc team of volunteers and in order for it to continue she needs access to transport to attend networking and promotional events, meet with sponsors attend fundraising events for the organisation etc. Without access to a vehicle it is likely she may not be able to continue this work as the physical toll on her body is too great. More information about Sporting Dreams and the difference it makes can be found at www.sporting dreams.org
Disability awareness talks at schools
Since the 1990s Marayke has conducted workshops and presentations in primary and high schools educating students about the Paralympic movement, embracing and understanding disability, and spinal injury prevention. The feedback from schools and teachers was always extremely positive stating that Marayke's message really connected with the students and got them thinking and talking. Without suitable transport she is unable to continue to do these important activities.
Continued ability to be a Member/director on boards-
2014: Sunshine Coast sports Federation, board of directors
Marayke was voted as a director on the board this year for the Federation which seeks to empower local sporting organisations, promote sport and bring major sporting events to the region.
2009- Present –Queensland State Government :
This committee advises on official celebrations including Australia Day and Queensland week, by reviewing current initiatives and generating new concepts.
2008-2009 Queensland 150th Advisory Committee-Queensland Government:
The advisory committee was made up of prominent business people and high achievers selected to assist the Premiers Department to prepare a program of events that engaged Queenslanders from every corner of the State.
Other volunteer work
Marayke is often asked to volunteer at community events from emceeing functions, judging competitions to speaking to groups of students or visiting parents of young children with disabilities. As a very community minded person this is something which she is always felt strongly about doing, but now without the means of transport has not been able to do so. Every time Marayke has to say no to a request which she knows would help someone else, it breaks her heart, but saying yes is impossible when she is unable to get there. Another reason she is forced to decline these requests is the fact that each time she attends and the event it will aggravate her condition meaning it is not feasible to book multiple events within weeks or preferably a month of each other. A modified vehicle would enable her to contribute so much more back to the community.
Why other forms of transport are a problem
Taxis: while maxi taxis are able to accommodate Marayke's power wheelchair, the vibrations cause by sitting near the vehicle's axle and the way these vehicles are modified flare up the injury. By the time Marayke reaches her destination she is already in significant pain, which increases over time. Within three days of the transport she can be nauseated, in severe pain and sometimes bedridden. This requires intensive and regular physiotherapy and massage therapy, strong pain killers as well as up to a month to resolve itself. If multiple trips are taken within a few weeks the situation can become so bad Marayke is nauseated from the extreme pain and unable to eat. In addition wheelchair taxis can sometimes be booked out causing Marayke to miss vital employment opportunities for meetings because she is over an hour late having waited for a taxi able to accommodate a wheelchair.
Bus: wheelchairs are not restrained on buses, meaning each time the bus stops start, turns or bumps Marayke's wheelchair moves and has even tipped over forwards on two occasions. The force of having to physically hang on with her arms to prevent falling combined with the vibration exacerbates her condition.
Trains: while the smooth movement of a train does not exacerbate Marayke's condition, she lives a 20 minute drive from the nearest train station meaning she needs to access the train via either taxi or bus which both flare up her symptoms. The same problem occurs at the destination if it is not in walking distance of a train station.
Private vehicle:
Currently if Marayke does need to go somewhere she has to rely on her family of small number of friends for a lift in her existing vehicle which fits the manual wheelchair in the boot. This presents a number of difficulties:
It requires somebody lifting her 37 kg manual wheelchair with power assisted wheels into the boot of Marayke's current vehicle. It is also painful and difficult for Marayke to transfer in and out of vehicles.
To travel in a private vehicle Marayke has to sit in the middle of the back seat with no one touching either of her arms (she cannot sit in front seat as the moulding of the chair plus the pressure from the door and the gearstick flare up her symptoms). This means only one other person can travel in the vehicle with the driver. A modified vehicle could be created to avoid this problem.
Upon arriving at the destination Marayke can only use her manual wheelchair as the power wheelchair cannot travel in a private vehicle, propelling this chair aggravates symptoms particularly over greater distances leading to long periods of bed rest, extreme pain and a need to use strong painkillers such as Endone and muscle relaxants combined with additional physiotherapy sessions to settle down the inevitable flareup. This means Marayke tries to avoid going anywhere unless absolutely necessary as it will lead to between a week and a month of pain and incapacitation.
Other issues related to alternative forms of transport
Rain: both Marayke's power wheelchair and the power assisted wheels on her manual wheelchair cannot get wet so walking from a train station or from place to place is impossible whenever it happens to be a rainy day. Holding an umbrella does not protect the area of the power assisted wheels which require to stay dry as they are on the wheel rims and close to the ground. It is necessary to drive a vehicle directly to the door to avoid getting wet. It therefore makes it very difficult to schedule any appointments for employment or otherwise when you have to cancel should it happen to be raining.
Transport of equipment required for employment: When Marayke is delivering a motivational speaking presentation, goal setting workshop or disability awareness workshop she is required to carry a large volume of the equipment, including not only a computer and iPad but adaptive computer technology due to her disability for delivering presentations and a large bag of sporting equipment if it is an interactive presentation. She is unable to propel her wheelchair and carry this all at the same time. With her own vehicle the gear could be carried in multiple trips and would not present a problem.
Conclusion
Due to the lack of alternative transport options available for Marayke, and the excessive combined cost of the required modifications far exceeding the normal price a person would need to pay to access a standard vehicle to transport themselves, and the significant benefits it would provide to both Marayke and her community this fundraiser has been launched to assist Marayke so she can once again become mobile and contribute to her community.
Marayke and would greatly appreciate any contribution towards this fundraiser, and says she intends to 'pay it forward' by continuing to give back to the community which has supported her through her volunteer work with Sporting Dreams, as a positive role model and through her motivational speaking.
Marayke says " Thank you from the bottom of my heart for taking the time to read this and consider making a life changing difference for me by donating to this appeal."
ABOUT MARAYKE: A BRIEF BIOGRAPHY
Marayke Jonkers, 34, is a retired Paralympic medal winning swimmer, paratriathlete and founder of Sporting Dreams, a grants program which helps athletes with disabilities.
Marayke's journey from becoming paraplegic in a car accident as a baby to a three-time Paralympian has inspired people around Australia through her motivational presentations and media appearances.
Marayke won a silver and two bronze Paralympic medals as a swimmer, competing at the Sydney 2000, Athens 2004 and Beijing 2008 Paralympic Games. A former world record holder and current Australian record holder Marayke represented Australia for over 10 years breaking over 70 Australian records and winning many international medals.
She later switched sports and became Australia's first female paratriathlete and para triathlon medallist when she won bronze at the ITU world championships in Budapest, Hungary.
Since retiring from competitive sport due to injury in 2011 Marayke has focused her attention on helping the next generation of athletes with disabilities through the grants scheme she started in 2008 called Sporting Dreams. Sporting Dreams provides funds to purchase equipment such as racing wheelchairs. Marayke's vision is to ensure the next generation of athletes have the same opportunity she has had to enjoy fun fitness and personal development through sport. She has already given grants to 118 promising athletes.
Away from the pool she has two university degrees from the University of the Sunshine Coast, in social science and communications, and achieved high distinction grades. As a qualified journalist she is also a professional travel writer specialising in accessible travel for people with disabilities.
Marayke is in increasingly high demand by corporate audiences as a motivational speaker, and hopes her inspirational story will inspire others to take up sport and follow their dreams- she just needs access to a suitable vehicle so she can continue to spread her message.
Her outstanding achievements have lead to Marayke winning many awards and accolades. Marayke won Queensland Young Achiever Award in 2005, has twice been a finalist in the Young Australian of the Year Awards and has been an Olympic torch bearer. Marayke was named one of Australia's most inspirational women by Cosmopolitan magazine, being announced as the inaugural winner of the fun fearless female award. She has appeared on television shows including Insight on SBS, Totally Wild on channel 10, and in publications including Cosmopolitan Magazine.
Marayke loves a challenge and has tried skydiving, sit-skiing, snorkelling, kayaking, camel riding, and has travelled through parts of Europe, the pacific, Asia and the UK enjoying the challenge of taking a wheelchair to some of least accessible areas of the world. Her favourite quote is "you never know what you can do until you try".