Marayke is fundraising.
This page was originally set up 2015 to fundraise for a vehicle to take Maraykes power wheelchair
however …
The week before Christmas 2019 her powered wheelchair broke down. She is from then until December 2020 in bed at a Friends house where  it broke down hours away isolated from elderly family and friends.
If Lockdown was tough imagine spending over a year not only only in your house but in bed in one room when you're perfectly healthy!!!! "going to hospital for a broken leg became exciting because I got to see sunlight on the way in and interact with humans"
It is dangerous for her to use an off-the-shelf wheelchair without customisation. Attempting to do so has caused skin breaks down, pain injury skin breakdown on both of her feet and a broken leg leading her teams decision that it would be safer in bed.
A customised electric wheelchair was deemed not reasonable necessary and cost-effective by the funding body ….. and so she waits
To get this replacement wheelchair seen in the pic during a trial fitting.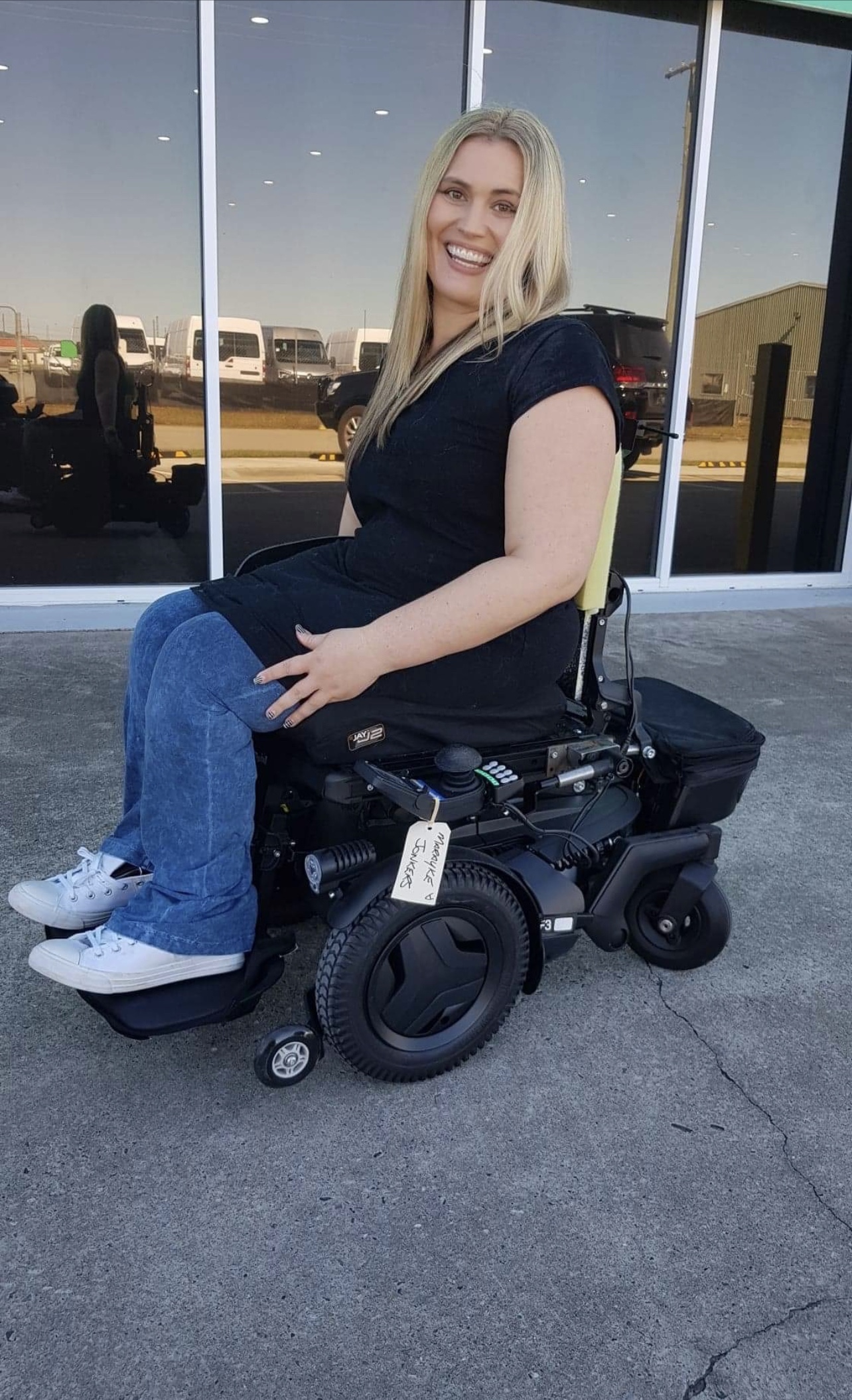 Donations through this page  allow tax deduction in Australia and can go to making marayke mobile again ( around AU$75,000 to buy the base model chair, custom build each part cover services for occupational therapist and Wheelchair customisation expert plus
*Adapt the restraint in the car to take the new wheelchair so Marayke can use it to be a passenger again. 
Vehicle modification
 update: thanks to clan support when I reached reached a point where Marayke can be a passenger secured in the back of the vehicle in her wheelchair. Modified want to modify it to drive but it least means leaving the house getting back to work volunteering running a charity & contributing. 
The modifications to a van will enable it to drive from her powered wheelchair so she can get to work and continue her work in the community including with the charity she founded sporting Dreams, after suffering an overuse injury to her arms meaning she needs a powered wheelchair that is too heavy to lift into her current car.
Marayke has the car, but modifications are expensive- havining
and saved and fundraised $38 000 to be a passenger she is now needs another $50000 to drive independently.
https://www.youtube.com/watch?v=_cMjh4TwUd0
Tax-deductible Donations are processed by Sunshine Butterflies the Registered Charity supporting "Make Marayke Mobile". A new window will open taking you to a payment gateway to make secure credit card donations.
Meet Marayke
Marayke Jonkers, 39, is a retired Paralympic medal winning swimmer, paratriathlete and founder of Sporting Dreams, a grants program which helps athletes with disabilities. Unfortunately after 20 years as an elite athlete Marayke has been diagnosed with an overuse injury to her arms and now not only lives in extreme pain but requires a modified van to drive while still in her motorised wheelchair, as she is unable to propel a manual wheelchair and transport it in her current vehicle.
Imagine going from being so strong you can lift your body weight with one hand to being so weak you drop a piece of toast, and not only that being forced to stay at home because you cannot afford a suitable mode of transportation.
Imagine if every time you went to work you became bedridden in agony for up to a month because you had to use inappropriate transport – this is a reality for Marayke now as when she travels to every motivational speaking job she is required to go in a car or maxi taxi and causes her extreme discomfort.
Yet Marayke remains motivated to continue working and contributing to the community. She has overcome so many obstacles through the thoracic outlet syndrome including an inability to type or use the mouse by now using voice dictation to control her computer so that she can continue her role as a motivational speaker, sharing her journey to becoming a Paralympian in the hope it inspires others to chase their dreams.
Your support and kind donations are greatly appreciated and will make a huge difference in Marayke's life and what she can continue to achieve. Thank You!
How much is required for Marayke to be a passenger?
$38280 = Raised and the modifications are in progress
How much is required for Marayke to be the driver?
$75000
total amount required?
$10328
HOW YOU CAN HELP
Donate towards some of modifications required. The car is currently at the modifiers waiting for the final funds to be raised.
Some of the items required for Marayke to be a passenger.
Wheelchair lift loader $7950

Remote control for loader $2250

Auto open rear door system $5200

Program remote keypad $250

Docking station that turns wheelchair into a car seat $5000

Docking pin on wheelchair to lock it in $750
HAVE YOU NOTICED…
From Television News
to the front page of the newspaper and radio interviews
the media is a-buzz with the Make_Marayke_Mobile Campaign
Paralympian Marayke Jonkers – and the people she inspires –
sincerely need your support.
All funds raised from donations go to "Make Marake Mobile"
Tax-deductible Donations are processed by Sunshine Butterflies the Registered Charity supporting "Make Marayke Mobile". A new window will open taking you to a payment gateway to make secure credit card donations.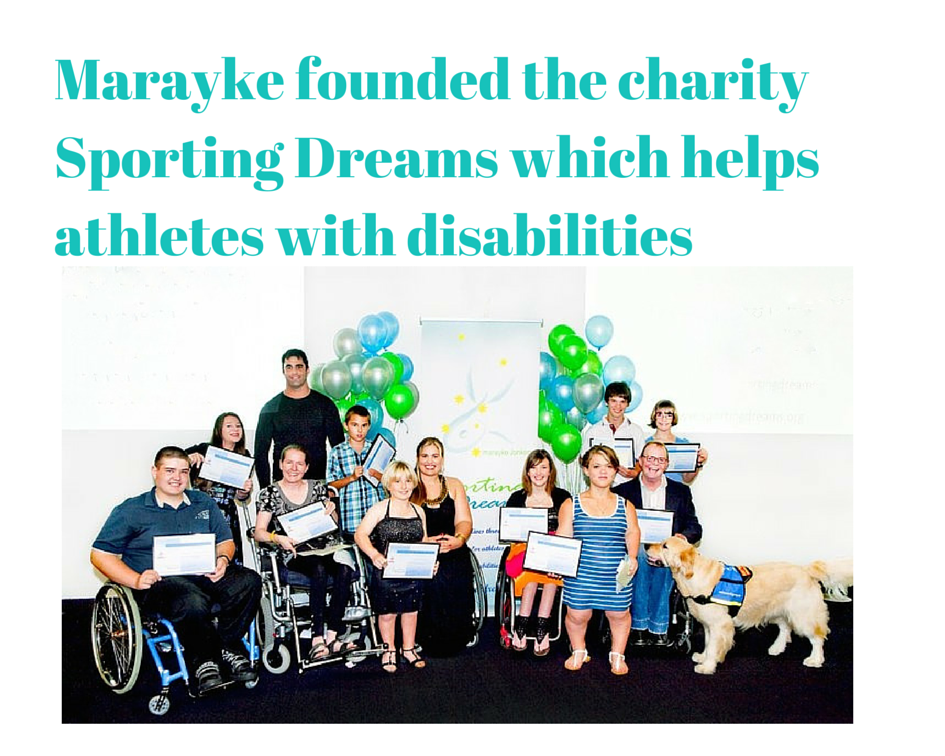 More about Marayke and the need for this fund-raiser
SPONSORS
Make Marayke Mobile Blog
Make Marayke Mobile Blog
AKA why is this car so expensive

Exactly what is Marayke's injury, in her own words, and why does that mean she needs a modifoed car?