SPORTING CAREER
Marayke's sporting journey began slightly differently to most eliete athletes, as Marayke first learned to swim after becoming paraplegic in a car accident when she was 8 months old. When the doctors told her mum that Marayke would never walk again, she taught her daughter to swim instead. By the age of 2 she could swim across the pool unaided.
Her first race was at the State championships at age six, and since then Marayke has raced in events all around the country and travelled to 33 countries winning a swag of medals for Australia.
Marayke's key events are the 150m individual medley (SM4 class) and the 50m Breaststroke.
Marayke has broken the world record for 100m butterfly (s5 class), and has broken over 70 Australian junior records in breaststroke, individual medley, freestyle and butterfly.
She made her Paralympic debut as an 18 year old at the Sydney 2000 Games, where she was the first Australian swimmer to compete, racing in the first event on the first day.
There she took 21 seconds off her best time and broke the Australian record to place 6th in her 'practice event' the 150m individual medley. Two days later she backed up with another Australian record only to place an agonisingly close 4th by on one hundredth of a second in the 50m breast stroke.
Determined not to miss the medals again, she threw herself back into training and won gold, silver and bronze at the US Nationals in 2001.
In 2002 at the IPC World Swimming Championships in Argentina, she finally conquered her demons beating her main rival from Sydney to win two silver medals in Australian record time.
Marayke's dream to win a Paralympic medal finally came true at the Athens 2004 Paralympic Games where she overcame a serious neck and arm injury to win two bronze medals.
She trained 6 days a week, swimming 576 kms a year.
Demonstrating her remarkable athletic ability, Marayke took up handcycling as a form of cross training and was stunned to win gold for the road race at the 2006 national championships while still training as a swimmer.
She set her sights on improving her performance and went on to win a silver medal for the 150m Individual Medley SM4 at the Beijing 2008 Paralympic Games.
Marayke's final competition was the 2010 IPC World Swimming Championships where she won bronze in the 50m breaststroke. Marayke was honoured to be announced as the Australian team flag bearer for the opening ceremony. Upon her return to Australia she was named Sporting Wheelie of the Year (QLD's highest honour for athletes with disabilities).
She says this was a fairy tale ending to her swimming career.
After 10 years representing Australia, She retired as the eldest and longest serving female on the Australian Paralympic swim team.
Marayke announced her retirement from competitive swimming at the 2011 awards presentation for her charity Sporting Dreams, saying that although injury forced her to retire she had achieved everything she dreamed of and more in the sport.

Triathlon
Becoming Australia's first female to compete and medal at a world championship was the last thing on my mind when I signed up for my first triathlon, I was looking to tick something else off my bucket list.
"For my whole life I had watched the Olympic triathlon on TV, admired the athletes and been enthralled by the challenge."
I knew how much effort it took to become competent in just one sport -swimming- and wanted the challenge of perfecting every detail of transitions plus the 3 sports of swimming, cycling and running. I'd never heard of paratriathlon when I decided to prepare for my first race but concluded I could use my handcycle for the bike leg and bought a racing wheelchair for the run leg.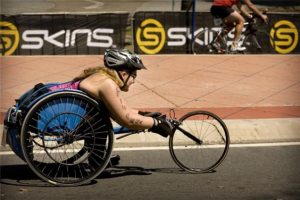 One year to the day after my first race in 2009, I won bronze at the ITU world Paratriathlon championships in Budapest Hungry in the womens sprint distance wheelchair division. Although I have now had to retire from triathlon due to injury, I am so glad I challenged myself to pursue this life long goal!.
-Marayke Jonkers