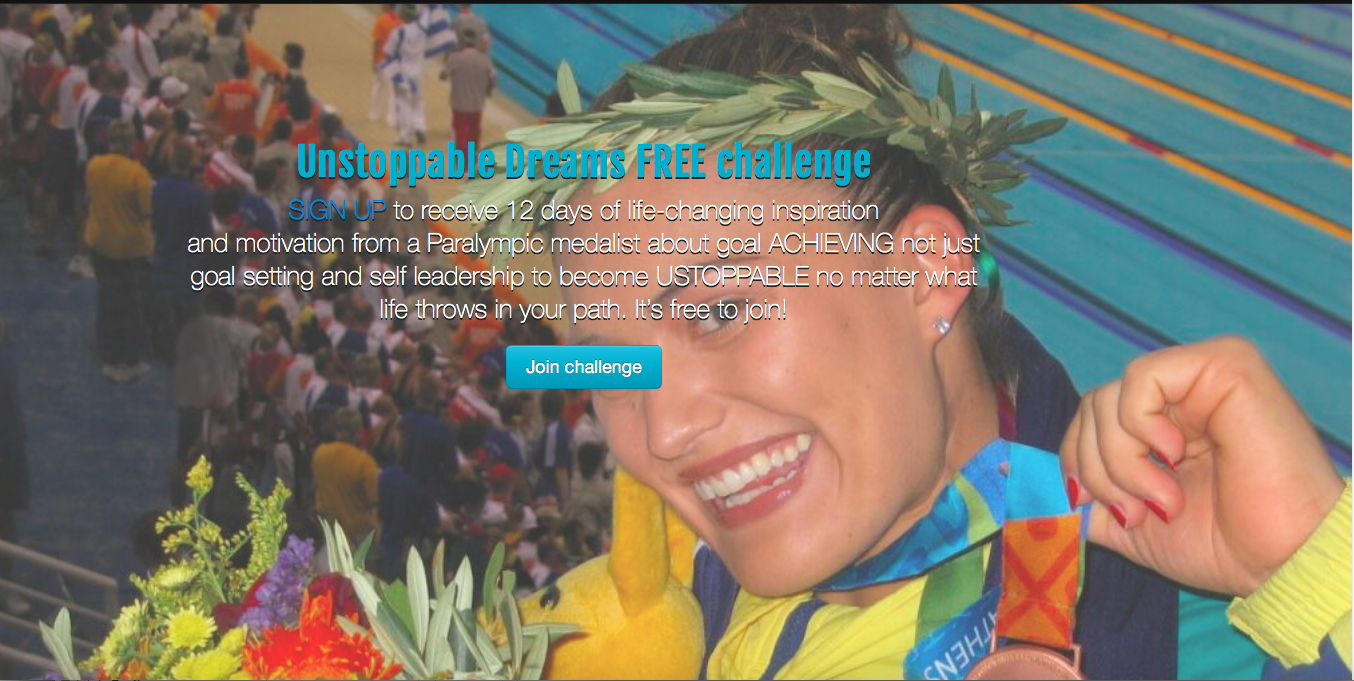 Welcome to the website of Marayke Jonkers, Australian Paralympic Swimmer, Paratriathlete, motivational speaker, self leadership training expert and founder of the charitable foundation Sporting Dreams.
Marayke's journey from becoming paraplegic in a car accident as a baby to a three-time Paralympian, has inspired people around Australia through her motivational presentations and media appearances.
Marayke won a silver and two bronze Paralympic medals as a swimmer, and later became Australia's first female paratriathlete when she won bronze at the world championships in 2010. A former world record holder and current Australian record holder, Marayke won Queensland Young Achiever Award in 2005, has twice been a finalist in the Young Australian of the Year Awards, and has been an Olympic torch bearer.

She is currently writing her autobiography "Unstoppable dreams: self leadership to win".
Since retiring from competitive sport due to injury in 2011, Marayke has focused her attention on helping the next generation of Paralympians through the foundation she started called Sporting Dreams.

She has appeared on television shows including Insight on SBS, Totally Wild on channel 10, and in publications including Cosmopolitan Magazine.
Featured in:
WHAT DOES MARAYKE SPEAK ABOUT?​
LIFE INSPIRATION CHASING DREAMS ACHIEVING GOALS OVERCOMING OBSTACLES
​Marayke has spoken to audiences ranging from 10 to 3000, in venues as diverse as pre-schools and Parliament House. She has shared the stage with dignitaries including Premiers and the Governor General. Her story is of daring to dream big, setting goals and never giving up no matter what obstacles life throws in your path.
She uses sport as a metaphor for life as she weaves her own stories of achievements, medal-winning highs and injury-plagued lows, through practical tips each of us can use to lead a rich, rewarding life and overcome the obstacles Marayke says are 'inevitable'.
"While we may not be able to choose what happens to us in life,
we can choose the attitude we have towards it.  So choose to win,"

– Marayke Jonkers.​​
Marayke has a special interest in peak performance, and sharing the unique 'mind training' strategies she developed during her sporting career to help audiences 'step up to the next level' and get that last 10% out of themselves.
If you are seeking a speaker on any of these topics , Marayke can help (and will customise the presentation to your specific goals and requirements).
Peak performance
Goal Setting 

( and achieving – how to stick to your plans)

Obliterating obstacles
Disability & the Paralympics:

Marayke is very passionate about promoting Paralympic sport and disability awareness and has fun activities to help participants experience Paralympic sport.

Safety: 

​Marayke has spoken to audiences about spinal injury prevention and workplace safety. As she says, "at the moment prevention is the only cure."

Self leadership: The art of getting the best out of yourself.
NEWS
When New Year's Eve comes around, I don't set New Year's resolutions – I set GOALS. This story in the Sunny Coast Times (January 2022) by Michele Sternberg explains how you can realise those resolutions, whether it's losing weight, giving up smoking, exercising more, getting a new job or spending

Journalist Caitlin Zerafa interviewed me for a story in My Weekly Preview magazine and I shared my story, how I set up the Sporting Dreams charity to help support future athletes with a disability and how I am continuing to inspire people from all walks of life through my corporate

I was excited to be invited by Universal Studios to premiere of #firstman – a movie about Neil Armstrong's family and story behind that famous flight. Loved seeing the memorabilia when I visited NASA in Houston for the IWF Global Women's Forum @johnson space centre. My biggest takeaway was something

Still pinching myself at the honour of carrying the Queen's baton on the Sunshine Coast in front of my family. Wonderful to see so many generations from school kids to grandparents out cheering and all sectors of the community represented as baton bearers.
MOTIVATE ME MARAYKE
MOTIVATIONAL MINUTE- FREE RESOURCES
It happens to the best of us, the alarm goes off in the morning we feel tired it's nice and warm and comfortable under the doona and before we now look with missed an entire day or week of exercise because we promised ourselves will do it later but

Did you see the movie "how do you know" where Reese Witherspoon is a champion softball player and has her whole bathroom mirror covered in sticky notes with motivational sayings, affirmations and goals? Well- No longer do we need to scribble motivational quotes on post-its to stick to our mirror-

Vision boards have been all the rage in personal development for many everyone from Oprah Winfrey to our favourite movie stars attesting to their virtue and power. Once upon a time they were the domain of giant cork boards pieces of cardboard stuck on a wall. I challenge you to

It happens to the best of us, the alarm goes off in the morning we feel tired it's nice and warm and comfortable under the doona and before we now look with missed an entire day or week of exercise because we promised ourselves will do it later but never