SPEAKER
Marayke knows that in business and in life, just like in sport, we all face obstacles,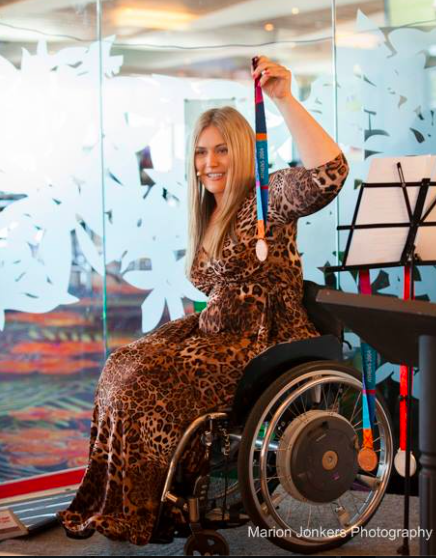 crossroads and change but we also all have choices. Marayke's talks about finding the inner strength to keep going, create new goals and choosing to create the life you want through what can seem like insurmountable obstacles.
She has spoken at venues as diverse as pre schools and parliament house and has over 15 years experience as a professional speaker.
Marayke draws on her preparation for the Games in her presentation "Short Poppy Syndrome" to point out how winning people have winning attitudes and are not affraid to stand out and be the tall poppy who succeeds. In doing so, they encourage other people to do the same and a winning team begins to blossom. As Marayke puts it, "it's great to be different!"
Opening up about how she prepares for a swimming competition, Marayke shares her medal winning techniques for success and getting the best out of yourself in any situation, from sport to your work and personal life.
If you want your audience to leave your next event motivated and empowered, contact Marayke today.
MOTIVATIONAL SPEAKING IN ACTION
WHAT DOES MARAYKE SPEAK ABOUT
LIFE . INSPIRATION. CHASING DREAMS. ACHIEVING GOALS. OVERCOMING OBSTACLES.
Marayke has spoken to audiences ranging from 10 to 3000, in venues as diverse as pre schools and Parliament House. She has shared the stage with dignatories including Premiers and the Govenor General. Her story is of daring to dream big, set goals and never giving up no matter what obstacles life throws in your path.
She uses sport as a metaphor for life as she weaves her own stories of achievements, medal winning heighs and injury plagued lows throughout practical tips each of us can use to lead a rich, rewarding life and overcome the obstacle Marayke says are 'inevitable'
"While we may not be able to choose what happens to us in life, we can choose the attitude we have towards it. So choose to win,"– Marayke Jonkers.
Marayke has a special interest in peak performance, and sharing the unique 'mind training' strategies she developed during her sporting career to help audience 'step up to the next level' and get that last 10% out of themselves.
If you are seeking a speaker on any of these topics , Marayke can help ( and will customise the presentation to your specific goals and requirements)
Peak performance
Goal Setting ( and achieving- how to stick to your plans)
Obliterating obstacles
Disability & the Paralympics:Marayke is very passionate about promoting Paralympic sport and disability awareness and has fun activities to help participents experience paralympicsport.
Safety: Marayke has spoken to audiences about spinal injury prevention and workplace safety.As she says- at the moment "prevention is the only cure."
Disability Sector
Disabling liming beliefs about ABILITY
A keynote particularly suited to International Day of People With Disability and Disability Action week
Marayke not only has lived experience with disability but has worked in the sector for decades from writing THE  book on graduates with disabilities in the workforce ( which is in every library in Australia) to being QLD Government ambassador for the National Injury Insurance scheme (NIISQ), founder of disability charity an advocate and spokesperson.
This keynote begins with Marayke's lived experience- and a good dose of humour before
Interactive questions and groupwork to identify areas to work on within participants own life and organisation.
Open Q& A
Marayke's Ignite International Speech
One idea worth sharing in 10 minutes with 20 slides.
TO BOOK
Contact Marayke to discuss how she can customise a presentation for your event and how she can help make it a memorable for your guests
info@marayke.com
(07)55443 4685
0412751407