SPEAKING
In business and in life, just like in sport, we all face obstacles…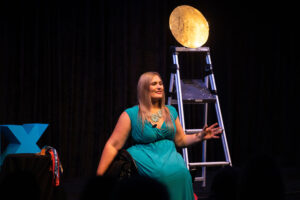 but we also all have choices. Marayke talks about finding the inner strength to keep going, create new goals and choosing to create the life you want through what can seem like insurmountable obstacles.
Marayke shares her medal winning techniques for success and getting the best out of yourself in any situation, from sport to your work and personal life.
If you want your audience to leave your next event motivated and empowered, contact Marayke today.
MOTIVATING
Topics
Live a Gold Medal Life

Peak Performance Mindset and Goal Setting

Self-leadership to WIN

Disability & Ability
Marayke has spoken to audiences ranging from 10 to 30,000. Her story is of daring to dream big, setting goals and never giving up no matter what obstacles life throws in your path.
She uses sport as a metaphor for life as she weaves her own stories of achievements, medal winning highs and injury-plagued lows throughout practical tips that each of us can use to lead a rich, rewarding life and overcome the obstacles Marayke says are 'inevitable'.
"While we may not be able to choose what happens to us in life, we can choose the attitude we have towards it. So choose to win,"– Marayke Jonkers.
Marayke has a special interest in peak performance, and sharing the unique 'mind training' strategies she developed during her sporting career to help the audience 'step up to the next level' and get that last 10% out of themselves.
TO BOOK
Call now to discuss how Marayke can customise a presentation for your event.
marayke@marayke.com
(07) 5443 4685
0412751407