RESOURCES
Downloadable marketing material for clients and bureaus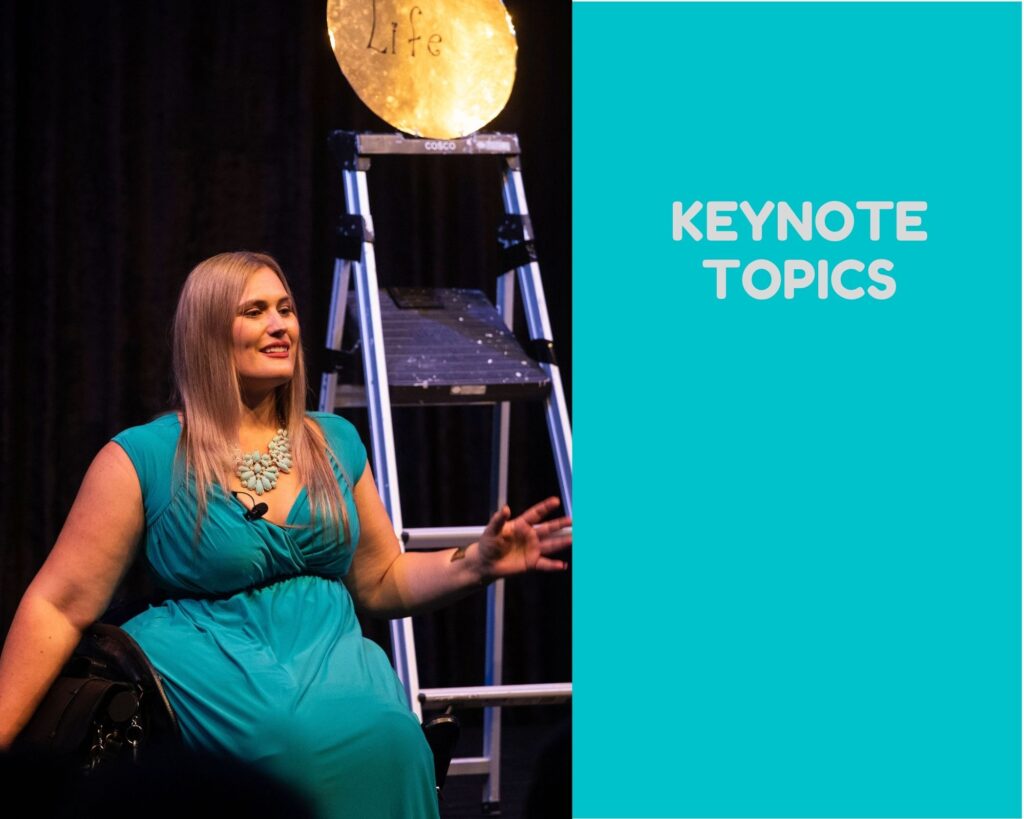 Marayke Jonkers – Bio
Motivate – empower – inspire
Marayke Jonkers was just eight months old when a car accident changed her life forever.
Doctors said Marayke would never have an ordinary life. How right they were. Instead, Marayke is living an EXTRA-ordinary life!
Her inspiring journey from being a young girl in a pink wheelchair to a three-time Paralympian is one that continues to enthrall and motivate audiences around the world.
Marayke's achievements as an Australian Paralympian and triathlete make her the ideal keynote speaker and self-motivation expert for anyone wanting to achieve their own Gold Medal LifeTM.
Learn how she found the inner strength to keep going and set new goals to create the life she wanted despite what seemed like insurmountable obstacles.
Topics of Expertise
Live a Gold Medal Life
Peak Performance Mindset and Goal Setting
Self-leadership to WIN
Disability & Ability
Introduction
Marayke (pronounced Mar – ray – ka)
Marayke Jonkers is an Australian Paralympian and triathlete, charity founder and self-motivation expert who empowers others to achieve their own Gold Medal LifeTM.
Marayke's journey from becoming paraplegic in a car accident as a baby to a three-time Paralympian is an inspiring one that continues to enthrall and inspire audiences around the world.
After the accident, doctors told Marayke's mother that her daughter would never have an ordinary life. How right they were. Instead, Marayke is living an EXTRA-ordinary life!
She has won three Paralympic medals, represented Australia at three consecutive games, gained two university degrees plus another honourary degree, been named Queensland Young Achiever of the Year, inducted into the Sunshine Coast Sports Hall of Fame and founded a charity called Sporting Dreams to financially help young athletes with a disability … plus much more.
Overcoming challenges is her specialty and her aim is to inspire everyone here to follow their dreams.
So, without further ado please welcome Marayke Jonkers!
Audio & Visual Requirements
Marayke is used to being close to her audiences as many stage configurations do not have wheelchair access.
However, to ensure the best outcome for presentations, please ensure that the following items are in place BEFORE the start of the event:
DATA PROJECTOR WITH SOUND: Marayke will require visual and sound for a PowerPoint presentation, as well as a second screen (if possible) to project a live visual of Marayke.
SEATING ARRANGMENT: The audience should be seated in front or to the side of Marayke, with clear wheelchair access provided for her to enter from the front, side or rear. No seating allocated behind please.
MICROPHONE: Marayke does require a microphone for small and large audiences, and prefers a headset not a hand-held microphone. If this is not available, a lapel cordless microphone is acceptable.
WATER: A sealed bottle of water placed on a small table at hand-height would be very much appreciated.
STAGE: An open stage with wheelchair access and good lighting is preferred. However, a position on the same level in front of the audience is acceptable, preferably with a visual of Marayke projected onto a screen to ensure everyone can see clearly.
Workshops
Target your goal
FULL DAY
To have a Gold Medal LifeTM, it is important to smash through limiting beliefs that prevent us from hitting our target goals.
Using the unique goal smashing formula created by Paralympian Marayke Jonkers, each person will break a REAL target arrow at their throat.
The breaking arrows metaphor of sport emulating life provides a breakthrough experience propelling anyone beyond their disabling limiting beliefs, fears or emotions to energise their visions and goals. To anchor this, we write each person's goal on a note and stick it to the wall where the arrow is leaning to be broken.
Imagine the music pumping and your colleagues cheering as each one steps up, places the pointy end of an arrow against their throat and whoops in victory as they push forward and smash the arrow against a wall! Everyone hugs and high fives, sharing selfies and videos of their achievement! What a fun staff experience. Disable limiting beliefs and gain confidence and enthusiasm to reach goals – together as a team or in an individual's personal life.
Be assured, it is safe. Target arrows (not the more dangerous hunting arrows) are used and participants are coached in the technique to break the arrow WITHOUT breaking any skin by taking a leap of faith.
Breaking the arrow (particularly in spite of fear or lack of confidence) and the goal setting process taught in the lead up is used to help attendees break through to a new awareness of where they want to be in life or work.
Process and outcome:
Identify a goal (client can decide if it is to be specific, work related, personal etc)
Devise a plan to achieve it (using Marayke's Heart Goal formula REV UP TO WIN)
Identify limiting beliefs standing between them now and living the reality of the goal
Capture photos and video on your own or company's cameras /phones for sharing on social media, if desired
Participants come away with improved attitudes, elevated expectations of what is possible in their lives and begin to take steps towards a Gold Medal LifeTM using the tools provided.
NB: Marayke trained in this technique in the USA by the same organisation that taught world-renowned life coach Tony Robbins to conduct his firewalking workshops.
Goal Setting for a Gold Medal LifeTM
HALF DAY
We all have big DREAMS but how many of us know exactly what we need to do to take the first step to live the gold medal winning life we've always dreamed of?
Book this half day session on Marayke's HEART Goal not SMART Goal formula for goal setting that will transform the way you think about your professional and personal goals. Marayke will step you through the goal setting process she used to win 3 Paralympic medals, then help you come up with robust personalised strategies for overcoming obstacles along the way.
Who is this suitable for? Businesses, community groups, sporting teams and other groups.
Outcome:
A clear idea of your main goals now and for the future
A plan for what to do to oversome obstacles on the way to your goal
Understanding of your values and how this link to following through with goals
Understanding and self awareness to lead oneself through self sabotaging behaviour, identify burnout
Embracing the green eyed monster- how to turn jealousy to your advantage
Why there is no RIGHT way only the right way for YOU and how a deeper understanding of your inner workings is the life hack between where you are now and where you want to be
A written gold medal life list of achievements
A step-by-step plan of how you can literally turn your dreams into reality!
Goal Setting for Students
ONE HOUR TO HALF DAY
At school we learn reading writing and arithmetic, but what about important life skills such as goal setting and self-leadership?
Paralympic athlete Marayke has been setting goals since she was 10 by creating a list of 100 things she wanted to do in her lifetime. By the age of 34, she had ticked off all the major items on her bucket list and is a relatable role model for students, with 15 years' experience presenting in schools.
She loves working interactively with school students around the concepts of goal setting using the exact techniques she used to win three Paralympic medals and break a world record.
With extensive experience working with students of all ages, Marayke customises the presentation to the age group of the students.
Senior students: This goal setting workshop is an excellent activity for year 12 students to plan for life after school.
Years 5-10: The workshop helps students create an action plan to achieve their actual goals for the year, going into depth relevant for each age group.
Years 2-5: Younger primary school students hear about Marayke's life story, how she achieved her goals and have an opportunity to ask questions.
Prep-Year 1: For this age group, Marayke brings along her much-loved wheelchair Barbie to talk about the acceptance of difference to overcome discrimination.
Workshops include interactive sessions with worksheets and activities as well as Marayke sharing her inspirational story and robust personalised strategies for overcoming obstacles along the way.
Who is this suitable for? Schools, community groups, sporting teams and other non-corporate groups.
Duration:
A minimum of one hour is required for the workshop, or it can run up to half a day including meal breaks. If you have less time available, we can adjust the program to fit your timeframe.
d IS ability Awareness Workshop
In this interactive session, Marayke tackles the all-important subjects of embracing diversity and difference – be it disability, gender, ethnicity or other areas in life – by challenging participants to find anyone else in the room exactly the same as them.
Through sharing her story that growing up in a pink wheelchair as the only student with a disability in her school, Marayke always knew she was different.
But difference doesn't have to equal bad. In fact, disability can equal ability.
Marayke never wanted to be 'ordinary'. She wanted to be extraordinary.
Marayke shares the message that what makes us different also makes us unique; helping to combat bullying and build self-esteem.
This workshop can work particularly well where there are participants with a disability in the school, club or workplace, but is equally valuable for all participants as diversity, disability and bullying are discussed.
After speaking about her own experiences and showing a video, the workshop breaks into practical activities.
Students will play through different Paralympic sports, learning to use other senses and compensate for a changed physical ability – giving a whole new appreciation for people with disabilities and Paralympic sport.
The session concludes with a Q&A session.
Outcome:
Autographed postcard
Experience having played Paralympic sports
Identify qualities in themselves which makes them unique – their special abilities
Understanding of the need for tolerance kindness, and the benefits of diversity
Greater understanding of the Paralympic movement Paralympics and disability awareness
Put yourself in my shoes
HALF DAY
During this practical learning session, participants will be challenged to accomplish an everyday task in a new way and experience a sense of achievement upon completing it.
The activities get participants to think differently about how they use their bodies and whether they can adapt to physical challenges – leading to a new appreciation for people with disabilities.
Or, students will play various paralympic sports and be introduced to their ability to use alternative senses or body parts just as people with disabilities do every day.
For example, while playing goal ball with a blindfold on students will learn to use the sense of sound rather than sight.
NOTE: Multiple presentations on the same day are possible and Marayke will work with you to reach a custom pricing package for multiple events with the same organisation.
Private mentoring
Do you have a BIG unstoppable dream yearning to be brought to life?
Do you want a genuine cheerleader with proven experience to help make your BIG DREAMS happen?
Marayke mentors a select number of individuals through a one-on-one online coaching program each year.
Is this for you?
"Don't just dream it, do it. Dive into life and make a splash"