As a retired Paralympian who was inspired to take up sport watching the Olympics opening ceremony on television as a little girl in a pink wheelchair, an Olympic games is guaranteed to get the heart rate going and the memories flowing. But I have been pleasantly surprised to see just how far we've come in the five years since I retired in terms of including Paralympic athletes in the Olympics and television coverage.
Irans's flag bearer is a Paralympian too
Zahra Nemati, who lead the predominantly male team into the stadium is not only a wheelchair user but the nation's second female flag bearer (social media went into overdrive announcing her as the first female but that honour has since been revealed to belong to Irans 1996 flag bearer.
The 30-year-old will compete in archery at both the Olympics and Paralympics in Rio, after first believing she had to give up her Olympic dream of representing her country in tae kwon do following a spinal cord injury in her teens.
"I had a dream to be in the Olympics as I was doing taekwondo before my accident," she told the International Paralympic committee. "Now, this dream came true through archery."
Nemati has been named a United Nations ambassador for her role in empowering women through sport.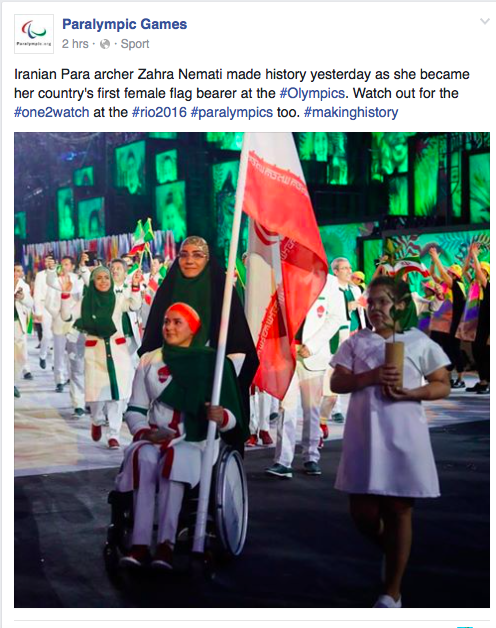 Riding away on a push trike honey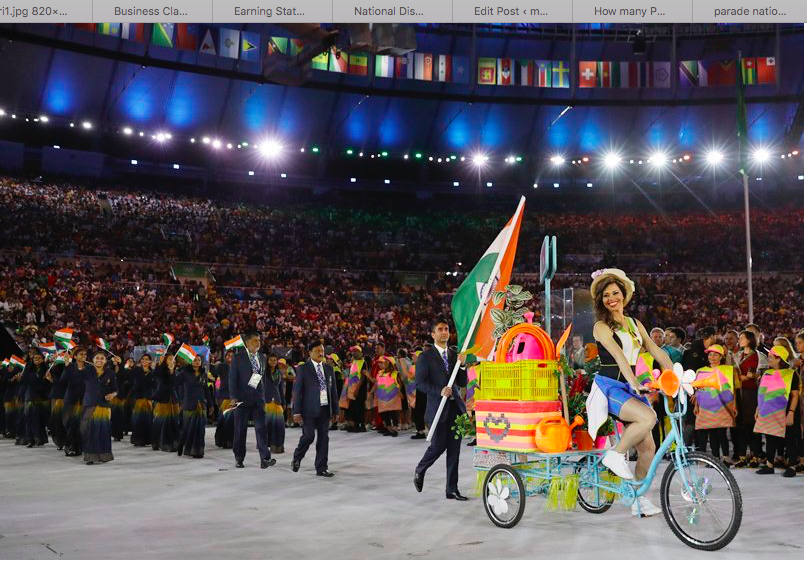 The colourful tricycles bearing each countries name in the parade of nations were bedecked with a watering cans to flowerpots and whirligigs, and peddled by glamorous party girls. But I doubt organisers anticipated the excitement they would generate around the world for people with disabilities who require a three wheeled bicycle for balance. From those with balance issues leg weakness who ride a tricycle, to those with the spinal-cord injury who use a three wheeled hand cycle suddenly having a three wheeled bike has gone from being something to feel self-conscious about to cool #mytrikerocks. Never underestimate the power of eradicating this kind of stigm or fear of looking different a for encouraging people around the world to get active.Now to pimp my ride- where do I get me some watering cans, fake flowers a giant horn and Windmill lol.
Olympic flag bearer
Amongst the white besuited dignitaries elected to walk the Olympic flag into the stadium was US track and Field Paralympic coach Joaquim Cruz.
Three Aussi Team members are Aus Paralympic Team members too
Table tennis competitor Melissa 'Millie' Tapper will write herself into the history books on day one in competition as the first ever Australian to compete at both the Olympics and Paralympics.
Paralympic Cycling guide Stephanie Morton is also competing at the Games, and rooming with Anna Meares the Olympic flag bearer and team captain.
Legal counsel for the Australian Olympic Committee Annabel Williams is a retired Paralympic swimming gold medallist from London and also a bronze medallist from the Beijing 2008 Games, who and is proving quite adept at getting coveted selfies with her favourite athletes around the village.
THE ADS
OMG usually this is the time actually on out and grab a snack or go wash the dishes, but this year the advertisements are as exciting as the main event- finally we are seeing Paralympic athletes being portrayed alongside Olympian's promoting companies around the world. Opening ceremony topics are the Woolworths add which premiered during today's opening ceremony "how to grow a champion" and features sporting dreams athlete Sarah Tait in her racing wheelchair alongside a number of other junior athletes who are developing from having the seed of an idea plangent until their athletic career is finally ripe to be "picked" for Australia.
The Suisse and Toyota ads with Dylan Alcott ( wheelchair Tennis) and Ellie Cole (swimming). Stay tuned for a future blog post delving deeper into ads around the world with Paralympic superstars front and centre.
ABOUT THE AUTHOUR
Marayke is a triple paralympian who competed at the Sydney, Athens and Beijing Paralympics Games as a swimmer winning 2 bronze and a silver medal, as well as being a former world record holder. She loves fashion, travel and finding a good audio book- and of course following all things para sport.